Windows 9 is coming. There is no denying that!
In this article we will focus heavily on the upcoming Windows 9 operating system, and some key details.
As of yet there is no release date set for Windows 9, however it should be speculated that it will release sometime in October, as all other Windows' have in the past, and it may be in 2015.
Within this year, on September 30th, Microsoft is holding a very special press release regarding Windows 9. It will be this press release, which will launch Windows 9 and Microsoft will announce it to the public as well as show off the new and changed features. If you are interested, you may not want to miss the press release.
Shortly after the press release, Microsoft will be releasing public preview images. For those not fam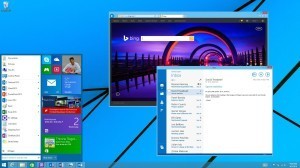 iliar with public preview images, it is a downloadable file, which you may use to install a very early copy of Windows 9. It should be warned to our readers, do not install the public preview image on your main computer. Windows 9 is nowhere near complete and it is not ready to be used. The public preview will contain a log of bugs and some incomplete features.
One of the biggest changes a lot are counting in Windows 9 is quite obviously the Start menu. It is finally coming back, Windows 7 style. Microsoft has heard the cries of Windows 8 users regarding the Start menu and they have finally listened. That being said Windows 8's Metro is not going to just disappear. We still have to see how Microsoft will handle that aspect.
A virtual assistant named Cortana. Cortana will be somewhat like Siri is on the Apple iPhone. However Cortana will exist within Windows Phone 9 as well as Windows 9. The name Cortana may sound familiar to those who have played the Halo video game series on the Xbox and Xbox 360. With Cortana around, users could have the ability to launch applications, easily book appointments, or write an email just by using your voice, spoken towards a microphone. At this time there is no list of possibilities what Cortana will be able to do, there are only guesses.
An end to versions or editions! Whatever you want to call it, the nightmare of having to decide which version of Windows to buy is long over. While the Ultimate version of Windows 7 easily cost $500, it was rarely worth it, as the Home Premium edition cost around $200 and the extras missing, when compared to the Ultimate edition where not so life changing at all. Windows 8 simplified things quite a bit by bringing it down to 4 versions. Non pro, Pro, RT and Enterprise. It was reported Windows 9 would only have one edition. For IT staff that means two editions, as there most probably will be an Enterprise edition with some extra features you could use within your organizations network.