Group 4 Networks
Honored in 6th Annual MSPmentor 250
Annual Managed Services Provider (MSP) List Honors Top
Executives, Entrepreneurs & Experts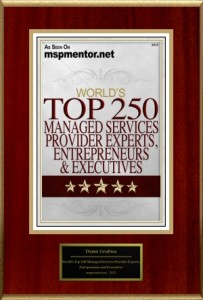 Damir Grubisa, CEO, Group 4 Networks was selected for Nine Lives Media's sixth annual MSPmentor 250. The global list identifies the world's leading Managed Services Provider (MSP) executives, entrepreneurs, experts, coaches and community leaders.
"We are honored to be recognized in the 6th Annual Managed Services Provider (MSP) List of Top Executives, Entrepreneurs and Experts." said Damir Grubisa, CEO, Group 4 Networks. "This shows that our commitment to provide excellence in IT services is distinguished worldwide."
The sixth annual MSPmentor 250 list is richer and deeper with MSP executives from across the globe. An associated list, called Locked in the NOC (network operations center), honors MSP Hall of Famers who have made a lifetime impact in the market (http://www.mspmentor.net/top250/noc).
"We congratulate Damir Grubisa on this distinguished honor and thank our readership community for submitting the nomination," said Amy Katz, president of Nine Lives Media, a division of Penton (www.penton.com).
The MSPmentor 250 report is based on a global survey of MSPmentor site readers conducted in the first half of 2013. The MSPmentor editorial staff, led by Managing Editor Jessica Davis, also weighed in with nominations, based on the team's daily coverage of the managed services market. The resulting MSPmentor 250 and Locked in the NOC coverage represents MSP experts across business, technology, sales, marketing, community development, coaching and more.
Why Group 4 Networks
Read more: https://www.g4ns.com/about#ixzz2wShUDwPl
About Nine Lives Media
Nine Lives Media, a division of Penton, defines emerging IT media markets and disrupts established IT media markets. The company's IT channel-centric online communities include MSPmentor (www.MSPmentor.net), The VAR Guy (www.TheVARguy.com) and Talkin' Cloud (www.TalkinCloud.com).
Penton Vision Statement
For millions of business owners and decision-makers, Penton makes the difference every day.  We engage our professional users by providing actionable ideas and insights, data and workflow tools, community and networking, both in person and virtually, all with deep relevance to their specific industries. We then activate this engagement by connecting users with tens of thousands of targeted providers of products and services to help drive business growth.
Contact
Nine Lives Media, a division of Penton
Jessica Davis, Managing Editor jessica.davis@penton.com