XD Solar Phone Charger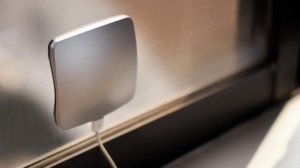 XD Solar Phone Charger- Charging your phone just got a whole lot easier and more energy-efficient with XD Design's brilliant solar charger, which sticks to windows to maximize its exposure to the sun's rays. Instead of having to follow the sunlight by moving the solar-powered gadget around the room, users can simply stick the thin charger to the inside of a glass window and leave it to soak up sunlight.
It's pretty easy to determine the most important benefit that solar battery chargers provide: They don't require external electrical sources to recharge your batteries. This means that solar battery chargers offer freedom of movement. You can find the sun pretty much anywhere on Earth during the daytime. So, if you find yourself lost in the woods with a dead cell phone, you need only the sun's rays to get it up and running again.
his lack of a typical electrical source also offers some subtler benefits. Solar cells generate no emissions, waste or byproducts; those photons that aren't used simply pass through the silicon or bounce off of it as they would any other material. Remember, this electricity is produced by the transfer of energy from photon to electron, which frees the electron and allows it to flow. Electricity is not itself a form of energy, but an energy carrier. Producing it through the photoelectric effect is a benign way of generating an electrical charge.
The uprising of the solar charging gadgets has been fairly dominant in the technology industry. It saves money and is environmentally friendly. Practical and efficient, the Solar Phone Charger allows you to charge your phone when ever and where ever.  Improve the battery life of your cell phone with the XD Design's Solar Phone Charger. Contact Group 4 Networks today to learn how you can start using the XD Design's Solar Phone Charger for your company, office or business. Contact Group 4 Networks for all of your businesses, companies or offices IT obligations and needs.
Group 4 Networks, your partner for IT success.
Group 4 Networks has been in the IT business for over 10 years. With their fast and effective approach, Group 4 Networks is sure to create a personalized IT solution for your office, business or company.