Windows 10
Windows 9 – scratch that, Windows 10 is coming, as we've said so before. Windows 8 has had some bad history amongst its users, past and present. Windows 8.1 has made some things different, but to some it's just not enough. To this date, the start menu is still the biggest issue a lot of people have with Windows 8.
Good news for Windows 10 adopters, the start menu is back! Yes, the start menu is back, lets let that sink in for a minute.
As tradition has it, any time a new Windows is launched, it comes with some new features. Some are useful, some are absolutely pointless.  One of the few big improvements are, better multitasking – this is perfect for people who have a lot of different apps open at the same time, also this is an area that needed much improvement over the years.
Multiple Desktops is something new, to Windows that is. Mac and Linux operating systems have had multiple desktops for quite some time now. With multiple desktops, you could switch to the second or third desktop, and have a completely different view. The open applications and folders from the first desktop are not shown on the second or third. This gives the user a very clean way to multitask between different kinds of tasks.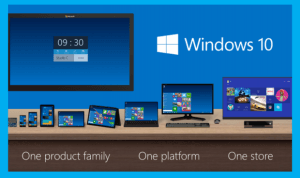 The system notifications appears to be getting a make over, where it will function in a more user friendly way.
For the geeks who use the command prompt a lot, you can finally use the keyboard shortcuts, CTRL + V to paste in text. This will be quite popular amongst IT people.
For now, these are just some of the new additions Microsoft has made the public aware of. We're sure there are much more new exciting features inbound.
Some other things that are worth to mention, pricing – some believe Windows 10 will be a free upgrade to Windows 8 users. In the same fashion Mac OS X Mavericks was.  We'll have to wait and see, but it would be nice. The release date will most probably be in late 2015, near Christmas, just in time to get a new laptop with a new Windows.
Whoever wants to get a sneak peek at Windows 10, they can download the Technical Preview and install it on a virtual machine to get a taste. The Technical Preview comes with no warranty, and it should not be used as a main desktop operating system, at all. Windows 10 is not finished yet.
If you or your organization has any concerns or questions about Windows 10, give Group 4 Networks a shout!