Treadmill Desk Lets You Work While You Exercise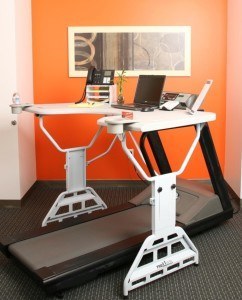 Work can be such a pain. The same goes for exercise. Why someone would want to assemble a contraption that would allow people to do both things simultaneously is beyond me, but maybe there's a demand for it because the treadmill desk exists. It's called the TrekDesk and it's a desk that can be attached to a treadmill so you can walk, job, or run at your desired pace while typing reports, crunching numbers, or doing whatever else you need to do on the desk.
The TrekDesk can be attached to virtually any treadmill and comes with a manuscript holder, a three-level file folder, two cup holders, and a headset stand. That way, there's a space for most of your stuff so your work area won't be so cluttered. The desk lets you work hard while you work out, although you probably shouldn't sign anything while you're on it because you'll probably mess your signature up.
The TrekDesk retails for $479.
Sitting for extended periods is bad for your health. That's true even if you're not overweight  and exercise regularly, recent research suggests. Australian researchers, for example, recently studied some 220,000 people and found that, over about a 3-year period, those who sat for 8 to 11 hours a day were 15 percent more likely to die of any cause than those who sat for 4 hours or less. Those who sat for more than 11 hours were 40 percent more likely to die. The message: Humans are meant to get up and move.
One solution is a desk treadmill, which combines an elevated workstation with a treadmill to let you work while walking. That doesn't mean running a marathon while simultaneously writing e-mail and talking to colleagues. Treadmill desks are about moving slowly to stay active, not about getting a shirt-soaking workout.
Contact Group 4 Networks today for a free audit.
Group 4 Networks, your partner for IT success.