The New Sprint Phone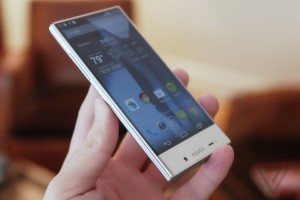 This week, Sharp, Softbank, and Sprint announced a new line of devices called Aquos Crystal, which feature full-screen designs like nothing we've seen before. Sprint confirmed today that it would be getting the 5-inch Aquos Crystal smartphone, a new mid-range device unlike anything else in Sprint's or other US carrier lineups. Oh, and it's going to sell for a measly $239 without a contract (or $10 per month with Sprint's Easy Pay plan or $149.99 on Sprint's prepaid Boost or Virgin brands).
The star of the show is the Aquos Crystal's 5-inch, 720p edge-to-edge display. There is virtually no bezel surrounding the screen, making it the first smartphone we can truly call "edge-to-edge". It's remarkable to see in pictures, but in person, it looked like something taken straight out of a science fiction movie set. I couldn't stop looking at the screen — it's really that striking. It reminds me of an infinity pool that has no edge.
But there is an edge here, and it's beveled and sharp. The Aquos Crystal is a little thicker than most smartphones today, but it has a matte plastic back that's slightly dimpled (but not as dimpled as Samsung's Galaxy S5). It feels less premium than an HTC One or iPhone 5S, but I can't say it feels cheap by any means. It's also much smaller than you expect a 5-inch smartphone to be because of its edge-to-edge display.
The Aquos Crystal runs Android 4.4.2 KitKat with minimal to no interface modifications. Sprint is including a couple of new software features on it, including a gesture-based screenshot tool and App Pass, a subscription based app service. Similar to a "Netflix for apps," App Pass costs $4.99 per month and provides unlimited access to a number of premium apps, including games and productivity tools. It also includes $5 of in-app purchase credit that can be used in the apps downloaded from the App Pass store.
Those looking for premium smartphone specifications won't be impressed by the Aquos Crystal's 1.2GHz quad-core processor, 1.5GB of RAM, or 8GB of storage (there is a microSD card slot to expand on the internal storage). But otherwise, the Crystal has all of Sprint's latest features, including HD voice, Wi-Fi calling, Harmon Kardon audio enhancements, and support for its faster Spark LTE network. And for its price point, the Crystal is really offering a lot on paper.
Contact Group 4 Networks for all of your IT needs.
Group 4 Networks, your partner for IT success.