Robot Printer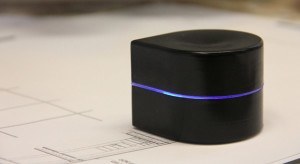 Most pocket-sized printers are really shrunken versions of what you'd see on your desk. Rather boring, don't you think? Zuta Labs' upcoming Pocket Printer robot may liven things up a little. Instead of using an old-fashioned paper feed, it runs over the page laying grayscale ink. This Roomba-like approach isn't just a party trick, though. Besides leading to a very portable design, it lets you print on any size page you like — if you need to get a legal form while you're at the coffee shop, you can.
Zuta Labs is crowdfunding the printer to get it off the ground. If you're interested, you can pledge $180 to reserve an early bird unit; it will cost you $200 if you're late to the party. The Pocket Printer won't ship until January if it makes its funding target, but patience may be a virtue if you want a printer that doesn't sit still.
Contact Group 4 Networks today to learn how you can start using the Robot Printer in your company, office or business. Print important documents on the go and with ease. Store printed files from the Robot Printer in Cloud in order to optimize the use of the gadget and insure security.