OFF Pocket – Puts Your Phone Off the Grid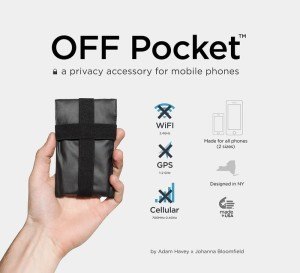 OFF Pocket – Puts Your Phone Off the Grid
Need to go off the grid for a while? You can turn your phone off…or you can just slip it inside the OFF Pocket. It's a portable privacy pocket of sorts that makes your phone untrackable and unhackable. It can successfully shield 100dB of signal in the 800MHz to 2.4GHz frequency range. That includes cellular signals, GPS, and WiFi.
The OFF Pocket is guaranteed to work with any phone and any carrier in any country in the world. It's available in two sizes to accommodate most phones and is flexible and lightweight, which makes it easy to carry and take with you on your travels.
The OFF Pocket launched earlier this year at Tank Magazine in London, where it sold out in its first run. Since then, the team has been going back to prototyping and doing beta tests to improve the design further. The project is currently up for funding on Kickstarter, where a minimum pledge of $85 will get you one of your very own.
Use the OFF Pocket when the need of privacy either during a meeting or during your vacation. Be in control of your privacy with the help of the OFF Pocket. Contact Group 4 Networks to learn how your company, office or business can start using the OFF Pocket today.
OFF Pocket – Puts Your Phone Off the Grid