NFC Wireless Keyboard for Android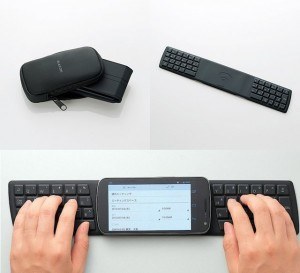 It seems as though our lives become busier and busier each day. We're increasingly on the go, yet because of smartphones and tablets we're also always connected. We are now expected to substantively respond to email and revise documents as if we're in front of our laptop or desktop even when we aren't. So how are we supposed fulfill our work and school obligations and write productive emails/papers on a tiny phone while we have five minutes waiting for our kids at practice, ten minutes at the coffee shop before work, an hour to kill on campus, or even a couple of hours on a flight or train ride? While our devices are getting smaller, our hands certainly aren't.
The NFC Wireless Keyboard for Android is a perfect companion for those of us who write a lot while travelling. Writing on a phone's touchscreen is not ideal for many reasons, including speed and comfort, but we like portable keyboards even less. However this is not the case with Elecom's keyboard, because it's small, foldable and it connects as easy as 1, 2, 3 thanks to NFC. Also, weighing just 5 ounces, it's very lightweight. Did we mention it's so thin you can keep it in your pocket? Another problem that affects today's gadgets is battery life: from a few hours to a couple of days at most, we cannot use our gadgets for very long without having to charge them. And this is another case when this amazing portable keyboard shines: thanks to its internal lithium ion battery, it can be used for up to 18 months without ever charging it. That's right, a year-and-a-half of battery life. This is the world's first NFC keyboard for Android devices, and you'll love it.
Here are a few additional details for "NFC Wireless Keyboard for Android"
Radiowave frequency: 13.56MHz
Transmission distance: 10mm
A key material: Silicon
Key stroke: 1.0mm
Key pitch: 15.0mm
Number of key: 45 keys
External dimensions: 341.0* 65.0* 8.6mm
Mass: Approximately 144 g
Contact Group 4 Networks today to learn how you can start using The NFC Wireless Keyboard for Android in your office, company of business