LG Curved UltraWide Monitor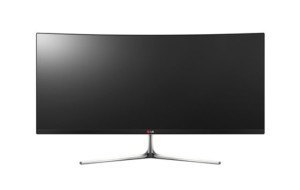 LG Curved UltraWide Monitor
At every tech trade show, there are bound to be new and upcoming devices being released and announced, and IFA 2014 in Berlin, Germany, is no different. In fact, we have heard whispers that LG might actually introduce their LG G Watch 2 there, not to mention unveil the latest IPS 21:9 Curved UltraWide Monitor (model 34UC97) on the IFA 2014 showfloor – in addition to other compelling monitor offerings, too.
What makes this particular LG Curved UltraWide Monitor so special? Well, the name itself does give the game away, being the first monitor in the world that incorporates a curved IPS screen with a 21:9 aspect ratio, delivering up to 34" of viewing goodness alongside carrying a range of convenient connectivity options.
Touted to be a "complete monitor solution" (trust me, no company believes in that as they will roll out a better and more comprehensive solution not too long after), this particular monitor targets professional users and home entertainment enthusiasts, thanks to its additional screen real estate. It will carry a gentle curve to a 21:9 aspect ratio monitor, offering Quad HD resolution display of 3440 x 1440 pixels, playing nice with both PCs and Macs. There is also Thunderbolt 2 support, MAXX AUDIO and a 7W stereo speaker system. Pricing details remains to be confirmed as at press time.
Contact Group 4 Networks today to find more about the LG Curved UltraWide Monitor and how it can become a part of your office, business or company. Group 4 Networks has been in the IT business for over 10 years and with their expertise and assistance Group 4 Networks is determined to bring peace in your IT department. Contact Group 4 Networks today for a free audit.
Group 4 Networks, your partner for IT success.
LG Curved UltraWide Monitor
Group 4 Networks