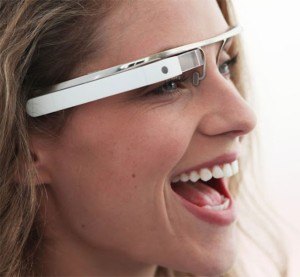 Google Glass
A long-rumored Google project, the Project Glass augmented reality glasses were unveiled today by Google on a new Google+ page. The project is specifically from Google X, the company's "secret lab" focused on long-term projects. These early videos and images show an augmented reality concept that's deeply integrated with all of Google's services, with voice commands, video chat, location check-ins, maps (outside and in-store), and much more. The New York Times's Nick Bilton writes that the prototype glasses that Google showed off look like a "pair of wrap-around glasses with a clear display that sits above the eye." With the glasses set on the bridge of your nose via small pads, a clean Google UI is then integrated directly over your vision. Bilton says there are "dozens" of models, including variations that can "sit over a person's normal eyeglasses."
The wrap-around glasses are early prototypes, and the Google+ page notes that these are possible designs that show what the interface and design could look like, and the video demonstrates "what it might enable you to do." The detailed demo video shows off a first-person view of an augmented day in the life of a New Yorker moving through the East Village, ending with a rooftop sunset video chat. Overlaid on the narrator's vision are weather stats, text messages, map directions, subway alerts, calendar reminders, and — of course — Google+ integration. The design elements seen in the video take some of the UI ideas seen in the company's recent ecosystem-wide redesigns.
It seems the glasses have moved past the concept phase, though. Speaking to Bilton, someone who has used the glasses said, "They let technology get out of your way. If I want to take a picture I don't have to reach into my pocket and take out my phone; I just press a button at the top of the glasses and that's it." In late February, Nick Bilton reported that "Google employees familiar with the project" confirmed the glasses would be available to the public for around $250 to $600 dollars by the end of 2012. At Wired, Steven Levy says that Project Glass "is very far from public beta," and that an end of year product launch is "extremely unlikely."
Source: http://www.theverge.com/2012/4/4/2925237/googles-project-glass-augmented-reality-glasses-begin-testing
The Google Glass has been around for almost two years. Although not popular amongst the regular crowd, the Google Glass is able to offer a very unique concept. Contact Group 4 Networks today to learn more about the Google Glass and how the Google Glass can be incorporated in your business, office or company.