Google Chromecast Brings Lynda.com to TV Screens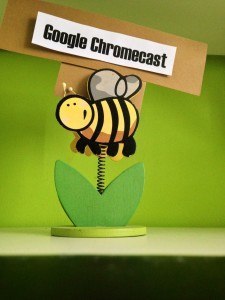 Lynda.com users can now follow their online courses using their large-screen televisions for larger, more dynamic presentations.
Google's Chromecast dongle can now be used to display online coursework from Lynda.com, giving online learners more screen real estate for their lessons.
The new Lynda.com feature was announced by the online learning company on June 16, along with an updated iOS app for Lynda.com that integrates more fully with the changes in iOS 7.
The integration of Lynda.com with Chromecast means that customers will now be able to participate in their online lessons even in the living room, bringing them to the biggest screens in their homes so they can get the most out of their courses, Ken Sandy, the vice president of product for the company, told eWEEK.
"We want to increase the availability of the services so people can learn anywhere," said Sandy. "To optimize it for Chromecast and living rooms, we think that our business school content will resonate well."
The Chromecast experience will also mean that customers can consume their courses on the larger screen while using their existing tablets or laptops to do their coursework as they watch the online courses, he said. "The learning experience is better enabled, but you can also interact at the same time by taking notes or quizzes on Lynda.com," Sandy said.
Previously, customers could watch the courses and take notes or quizzes using split screens on their mobile devices, he said.
Nur Duygen, Lynda.com's mobile product manager, told eWEEK that the Chromecast integration was a natural step for the company since it was "a very easy extension to our Android app."
Also included in the Lynda.com updates is the ability to view course videos offline by allowing members to download content to their devices so they can watch it when they lack an Internet connection. "We have a lot of commuters who use it, and students who can watch courses at home after downloading them at school," said Duygen.
Lynda.com has also unlocked the iOS app so that prospective customers can now try out approximately 230 free sample course offerings before signing up, she said. Previously, the iOS app only was operational for members.
Lynda.com memberships start at $25 a month for individuals with premium accounts starting at $37.50 per month. Lynda.com maintains about 2,300 courses in English and another 2,300 courses in other languages around the world. It supports more than 110,000 videos as part of its courses.
The latest versions of the Lynda.com mobile apps are available in Google Play, the Amazon Appstore and Apple App Store.
Chromecast, which first went on sale in the United States in July 2013, is a $35 phone- and tablet-controlled dongle that lets users plug Google into their television-viewing experiences. Chromecast plugs into the High Definition Multimedia Interface (HDMI) slot on an HDTV, enabling users to direct video content to the TV via a smartphone, tablet or PC, whether it's running an operating system from Google, Apple or Microsoft. Plus, while the phone is busy "casting," it can still be used for other things, like emailing.
Chromecast works with a continuously expanding assortment of services, including Netflix, YouTube, Google Play Movies & TV, and Google Play Music. Content is broadcast from the cloud to the TV—a user's smartphone or tablet essentially becomes the remote control making this happen.
In May 2014, Google announced that the availability of Chromecast dongles has now spread to Asia, Australia and more countries in Europe as Google expands the reach of the video-streaming dongles to more users around the world. The move was the second Chromecast market expansion so far in 2014. In March, Google announced that Chromecasts would be sold in Canada and 10 nations in Europe as the company began to expand the global reach of the low-cost video-streaming devices. The first 10 European nations given access to Chromecast devices were Denmark, Finland, France, Germany, Italy, Netherlands, Norway, Spain, Sweden and the United Kingdom.
Google has been working to encourage more apps for Chromecast with the release of a Google Cast Software Development Kit (SDK) in February 2014, which allows a wide range of innovative software creations to be inspired and built for the devices. The SDK is aimed at developers who want to build Chromecast support into their new and existing apps and Websites. A list of all apps that work with Chromecast can be found at chromecast.com/apps.