Credit Card Sized iDevice Charger Is Convenient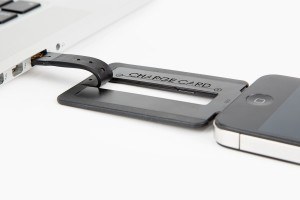 Who goes out with their iPhone charger? No one, that's who. And who's always crying, wishing they had? Yeah, that's what we thought. But we bet that if you'd had the ChargeCard, which is the same dimensions as a credit card (only a little thicker, of course), you might have saved yourself a few hours of hand wringing after your phone died following a marathon session of Candy Crush. It's $25 and works with pretty much every iDevice and Android machine.
Imagine being able to charge your phone without the use of a bulky inconvenient charger.  Store the ChargeCard on the go in your wallet. The chance of having your wallet with you at all times is promising and insures that you don't have to waste your time fighting over the single outlet at work with you colleagues. Save time and the stress of running low on your battery while at work. Make the most of your personal device and constantly replenish your battery life with ease. Contact Group 4 Networks today to see how you can start using the ChargeCard in your business, office or company. Any questions? Contact Group 4 Networks for all of your IT needs.
Group 4 Networks, your partner for IT success.