Credit-Card Sized External Battery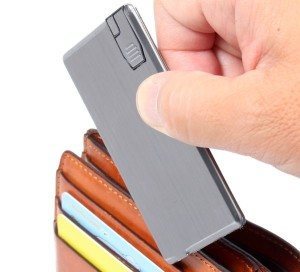 Let's face it, the main reason external batteries aren't as much of a runaway success as they could be is because no one wants to carry yet another bulky item in their pockets. But phones will keep running out of juice, and you'll keep turning off Bluetooth, WiFi, brightness and whatnot to get that extra mile out of your phone. What about the Gokuusu portable battery? It's 4.5mm thin and about credit-card sized, which means that it could fit into a wallet with ease. Sure, the 1,000 mAh isn't going to bring a phone back to 100%, but in emergency situations, it'll be more than welcome. The connection is done through a retractable USB cable and a set of tiny adaptors for whatever phone you carry. Better yet, it also has 4GB of storage. At 2,980 Yen ($30), it wouldn't make much sense not to get one if you're the type of guy who's constantly getting home with your mobile running on empty.
If you are one of those Smartphone users that always get frustrated due to the poor battery of their mobile, then Gokuusu may have some different solutions for you. With Gokuusu you can get Gokuusu External battery that can allow you to charge multiple devices. Also, you can power bank cases for your phone and it can give you freedom to charge your phone on the go.
Benefits of external battery: with the help of this battery you can simply charge multiple devices using USB port. That means whether you want to charge your tablet computer or you want to charge your Smartphone devices from any company, you can easily do that as long as that device support USB charging for you. Also, if you are at a remote destination, then you can charge your phone multiple times using this battery. Another great advantage of this battery is that you get LED flashlight as well in this external battery and it is lightweight that make it easy for you to carry with you at almost any place.
Contact Group 4 Networks today for a free audit.
Group 4 Networks, your partner for IT success.