Comparing the Surface Pro 3 to the MacBook Air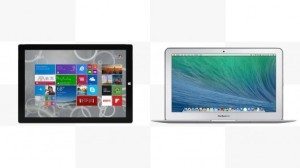 Microsoft has decided that the best way to fight Apple is to take on the company with a direct attack. First, Microsoft targeted Apple's Siri with a series of ads showing how its own virtual personal assistant, Cortana, can perform more tasks than Apple's alternative. Now, though, Microsoft has decided it's time to take the fight to the MacBook Air with ads that showcase how its own Surface Pro 3 is, in the minds of the Redmond, Wash.-based company, a better option for consumers. The ads, while admittedly one-sided, examine the key features that Microsoft believes set its own products apart in the marketplace. Microsoft contends that the Surface Pro 3's touch-screen, the device's Intel Core i7 processor option and other aspects of its design make it more suitable for consumers. Apple, at least so far, has yet to respond publicly or launched an ad campaign of its own taking aim at Microsoft's claims. Frankly, that isn't Apple's style. At this point, it's a one-sided conversation that doesn't pretend to be an objective comparison of what the two devices offer to buyers. This slide show aims to carry that flag by comparing 10 key features in both devices. It's up to buyers to decide which device best suits their needs.
Group 4 Networks is able to help you make a better decision when deciding between Microsoft and Apple products. Group 4 Networks has been in the IT business for over 10 years, with their experience and productivity Group 4 Networks is able to over the best IT service and solutions to your company, business or office. Backup your data on the Cloud in order to maximize the use and the efficiency of your current desktop or laptop with the help of Group 4 Networks. Save the time and the hassle with the services and personalized assistance offered by Group 4 Networks. Contact us today for a free audit.