A camera connection kit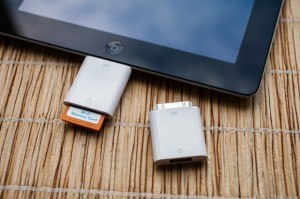 Who said the iPad lacks an SD card slot or USB? Well, actually, it does, but there is a solution for you if you crave a physical camera connection. If you have an older pre-Lightning iPad, the two-part Camera Connection Kit ($29) offers two 30-pin dongles that work surprisingly well for owners of the original iPad, iPad 2, or third-gen iPad. One adapter accepts SD cards, the other has a USB port. Plug in a camera directly or pop in a memory card to import photos and movies to the iPad for viewing or editing, and sync them with a computer later. You can also experiment with some other surprising ways to use the USB connection with other devices.
If you're an owner of a new iPad with Lightning connectors released after October 2012, you have several choices: go with a separate Lightning to SD card or Lightning to USB camera adapter ($29 each), buy the Lightning to 30-pin adapter and use your original Camera connection kit, or look for a cheaper third-party solution. Either way, it helps to have one of these in your bag if you take a lot of photos…but, as cloud-based Wi-Fi uploading services have improved, and Apple's Photo Stream has made further strides, you might find it easier to import directly from the cloud.
Source: http://www.cnet.com/pictures/must-have-ipad-accessories-pictures/
Group 4 Networks is all for backing up personal data. Back up your data from any device with the new iPad attachment. Contact Group 4 Networks today to order your iPad attachment for your company, business or office.